antimicrobial disinfection spraying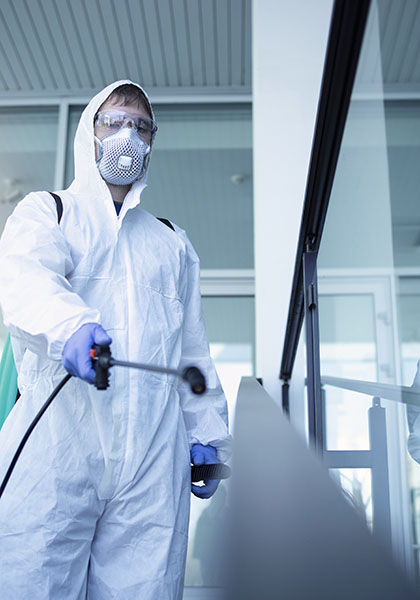 Quarantine time doesn't need to mean down time for your business.
Ready or not, your facility or business is preparing to open in the future.
Are you confident in your cleaning protocols?
Is your staff comfortable with their cleaning approach?
Are your customers convinced that the building is safe?
We Service America proposes to perform a prolonged antimicrobial disinfection spraying utilizing  electrostatic guns on any surface or object touched by hands or skin, utilizing the Goldshield product in the attached pdf in the manner proscribed by the manufacturer for your facilities.  This chemical has been approved by the EPA since 2013.
Antimicrobial spray is like Purell on steroids. It kills up to 99.99% of viable pathogens on a surface (including Coronavirus) on contact and provides up to 90 days (three months) of residual surface protection. It works by forming an invisible antimicrobial coating that eliminates the spread of infection now and in the weeks and months after the spraying is complete.
The water-based solution aggressively adheres to surfaces, creating strong bonds that provide short-term and long-term disinfecting protection. Antimicrobial agents activate surfaces, continually killing germs and bacteria over time.  Disinfecting also is a normal requirement in critical-care areas of healthcare facilities when there is a known outbreak of communicable disease and is part of the cleaning process when blood or other potentially infectious material is present in the facility. Antimicrobial spray is far more effective and longer lasting than traditional disinfectants on the market. With ordinary solutions, your offices become open to recontamination the moment the service has been completed. Antimicrobial agents, however, will not wash away or quickly deactivate. Instead, the particles aggressively adhere to tables, walls, floors and other surfaces, preventing the spread of infection for up to three months. Factors that affect the efficacy of disinfection include prior cleaning of the object or surface, soil load present, the type and level of microbial contamination, concentration of and exposure time to the germicide being used, physical nature of the object — does it have crevices or hinges or the presence of biofilm [a slimy substance that forms on a surface exposed to bacteria and water]. Environmental service providers need the following personal protective equipment and knowledge of their uses: Recommendations for Personal Protective Equipment for the Cleaning and Forensic Restoration Industry in Response to Coronavirus Disease 2019 (COVID-19): Personal protective equipment (PPE) should be selected based on the results of a situation/site risk assessment. This includes taking into consideration the likelihood of exposure and the activities or work practices being performed.
 Workers must receive training on and demonstrate an understanding of:
What are the limitation of their PPE
Extremely important, how to properly don (put on) and doff (take off) PPE in a manner to prevent self and environmental contamination
How to properly dispose of disposable PPE must be part of the plan and important for infection/contamination control
How to properly clean, decontaminate, and maintain reusable PPE after and between uses.
We Service America has documented policies and procedures describing a recommended sequence for safely donning and doffing PPE.  We Service America has select appropriate PPE and provides it in accordance with U.S. Department of Labor's Occupational Safety and Health Administration's (OSHA) standard 1910 Subpart I – Personal Protective Equipment.
We Service America's PPE is intended for workers who enter into spaces to clean and disinfect, where an infected or potentially infected individual is or has been located with COVID-19. Situations where there is a potentially infectious or confirmed infectious person present, the minimum PPE guidance is:
A N-95 respirator
Eye protection or face shield
A disposable gown or covering
Gloves should be worn
Shoe covers
An EPA licensed disinfectant with antimicrobial

Have a measured container or spray bottles with diluted disinfectant (per manufacturers direction)
Use microfiber clothes Per the manufacturer's direction, apply with electrostatic guns or Spay the disinfectant into micro fiber cloths and begin wiping following areas, allow the chemical to sit (dwell) for 4 minutes to kill viruses, always wipe in a straight line, never in circles (reinfection). Please
email
us if you would like further information and an Antimicrobial Disinfection Spraying quotation.
High touch areas to be treated include:
GENERAL
Door handles
Light Switches
Handrails
Elevator Buttons
Water Fountain Button (if applicable)
Vending Machine Buttons
Alarm Buttons
Air Conditioning / T-Stat Controls
Windows
Floors
MAIL & COPY ROOMS
Mail Room Counters
Copy Room Counters
Copy Machine Buttons
Conference Room Tables
Conference Room Chair Arms
BATHROOMS
Bathroom Counters
Bathroom Sinks
Bathroom Faucets
Dispenser Handles
Stall Door Handles and Locks
Toilet Flush Levers/Buttons
Baby changing stations (if applicable)
KITCHEN & BREAK ROOMS
Kitchen Countertops
Kitchen Sinks
Kitchen Faucets
Kitchen Cabinets
Kitchen Cabinet Handles
Refrigerator Handles
Microwave Controls & Handles
Dishwasher Controls & Handles
Other Appliance Controls & Handles
Trash Receptacle Touch Points
DESKS AND WORKSTATIONS
Desks
Reception Counters
Top of Cubicle frames
Keyboards
Mouse
Telephones
Other areas to be determined on our risk assessment visit.
ELECTROSTATIC SPRAYER: MOST ADVANCED DISINFECTING DELIVERY SYSTEM
Latest high efficiency technology sprayer produces small electrically charged droplets 900 times smaller than a conventional sprayer. Electrically charged droplets reverse direction and move upwards against gravity, reaching object's underside, back side, and nooks and crevasses. Quickest way to disinfect a room and deliver 100% coverage of all surface areas and eliminate risk of cross contamination. Technology advanced droplets that seek out and wrap around germ infected areas and beyond with 75 times the force of gravity. Electrostatic droplets will repel and not overlap one another and land on untreated surfaces for 100% surface coverage.  Charged droplets will cover the insides and outsides of keyboards, toilet seats, etc.
Our personnel are trained in touch point disinfection. This is the disinfection of commonly touched surfaces like phones, handles, facets and horizontal surfaces. Electrostatic disinfection is not a replacement to your regularly scheduled service. But it is a great addition that guarantees that all surfaces, even small areas or upholstered surfaces that can't get wiped down, are disinfected. Remember, it's not just disinfecting the tops of surfaces but underneath and all the way around too.
 

CDC and EPA-backed cleaning & sanitizing protocols and solutions to fight indoor viruses, influenza, MRSA, HIV, germs, bacteria and other harmful pathogens
Custom cleaning & sanitizing packages for essential businesses
Create a healthy environment and reduce infection rates.
Avoids cross contamination and the movement of bacteria from one surface to another
Disinfects pollens, allergens, dander, mildew, mold, spores, etc.
Thoroughly removing biofilms from all surfaces
Applies chemicals in a more efficient, uniform and controlled manner, eliminating the dangers of overuse and reducing the amounts of chemicals used and wasted produced
Application of disinfectants and antimicrobial through one or more delivery methods, including electrostatic, mist, fogging and direct spray
24 Hour Customer Service Call Center
Dependable and Reliable Service
Surface Testing
We have an ATP monitor and will soon utilize ATP surface sample environmental monitoring to assure surfaces are clean after our disinfectants are applied. ATP monitors test for Adenosine Triphosphate which is stored energy found in every cell.  While viruses do not contain cells, the removal of biofilms and cellular activity on all surfaces assures our disinfectants can properly kill the viruses.  When this process is  in use we will report the ppm (Parts per million) before and after application.  Such monitoring will indicate the effectiveness of our treatment.  ATP (adenosine triphosphate) detection systems measure the amount of organic materials in a sample, such as blood, mucus, bacteria, and viruses. When used to verify the cleanliness of surfaces, ATP testing results indicate whether a surface needs to be re-cleaned or cleaning methods need to be changed.
 Prevention & Treatment
There is currently no vaccine to prevent 2019-nCoV Coronavirus infection. The CDC believes the best way to prevent infection is to avoid being exposed to the virus and recommends everyday preventative actions to help prevent from spreading:
Wash your hands often with soap and water for at least 20 seconds. If soap and water are not available, use an alcohol-based hand sanitizer
Avoid touching your eyes, nose, and mouth with unwashed hands
Avoid close contact with people who appear to be sick
Stay at home if you are sick
Cover your cough or sneeze with a tissue, throw the tissue in the trash, then wash your hands thoroughly
Clean and apply disinfectant to commonly touched objects and surfaces
Please note: These applications and tools do not replace regular cleaning chemicals or processes but rathe serves as an adjunct service to ramp up disinfection efforts. 
In order to properly price your facility a physical site assessment must be made.  Such assessment includes:
Site Risk Assessment – Quality Control
Are we addressing interim disinfection (prevention) or corrective (responding to a known incident)
Assess risks associated with building hazards (biological, chemical, physical).
Plan approach and procedures.
Determine entrance and exit strategy
Presence of electricity, water, lights
Direction of airflow
Determine cleaning and disinfection needs
Determine equipment and ppe needs
GUARANTEE:  Similar to the chemicals utilized by the pest control industry, the chemicals they apply have a manufacturer's useful life of 60 days and they are typically reapplied every 30 days.  The manufacturer of our antimicrobial has a 90 day warranty that diminishes over 90 days.  That is why we recommend a follow up service every 60 days as the prior application will have diminished by 2/3 of its 90 day expectancy.
MISSION STATEMENT
We Service America is a participant in good standing with GBAC (Global Biorisk Advisory Council, a division of ISSA, the International Sanitary Supply Association).
We have completed  courses teaching cleaning professionals to prepare for, respond to and recover from bio hazards in the work place.  Our cleaners have learned infection and contamination control measures for infectious disease outbreak situations such as the novel coronavirus (SARS-CoV-2).
GBAC trains workers to be Microbial Warriors™, arming cleaning professionals with the planning, knowledge and processes needed to respond to a biohazard crisis in the workplace.
GBAC-trained professionals bring increased value to their employers and customers because they demonstrate the competence to carry out their responsibilities and they have a commitment to the standards of excellence and continuous learning.
The GBAC Fundamentals Online Course teaches:
Preventative, response, infection control, and contamination control measures to known or potential infectious disease outbreak situations. This section includes emphasis on the novel coronavirus (SARS-CoV-2).
Importance of proper cleaning and disinfection for health
GBAC protocol for response and remediation
Use of personal protective equipment (PPE), tools, and equipment
Cleaners and disinfectants based on the EPA's Emerging Viral Pathogens Guidance in the United States
We Service America


Phone (310) 743-3000 x212
Fax (310) 743-3005
Address 19208 Vermont Avenue #200
Gardena, California 90248
We Service America serves businesses Nationwide and in Canada across a wide variety of market segments. Our best-in-class and now environmentally-friendly facilities maintenance services and business-to-business commitment is a powerfully unified partnership designed to simplify the maintenance of your operations, improve quality, and reduce costs. 
© 2019. We Service America. All Rights Reserved.